<< Back to Secret System
In order to recover from his recent "financial hiccups," Worldwide Poker Champion Bill Fillmaff has been forced to sell his million dollar poker secrets on DVD for the unreasonably low price of just $19.99! Here's what you'll get!
All nine chapters of Bill Fillmaff's Secret System, remastered in high-quality by the finest craftsmen!
Exclusive commentary on all nine chapters by Bill Fillmaff himself!
A full-length "Lost Chapter" entitled "Poker PhD!" Call the doctor!
"Secrets of Secret System" - Deleted Scenes you never got to see because they got deleted!
An extended Director's cut of Chapter 9! See the scenes that were too hot for the Internet!
Bill Fillmaff's Guide to Starting Hand Strategy! Now you'll know which hands to play and which to throw at the dealer!
New photos of the champ, high-tech interactive menus with noises, and much more!
Basically, you're losing money right now by not ordering this DVD! Why do you hate money so much? Don't you want to sleep on mattresses made of fluffy cash?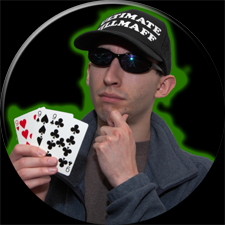 U.S. Orders
Order Bill Fillmaff's Secret System DVD for $19.99 shipped!
If you have any questions/problems about ordering, International orders, or want to be greedy and order 2 or more copies, email Team Bill Fillmaff and they'll assist you because they are gentlemen!

<< Back to Secret System
---
Copyright 1998-2011, Fillmaff Brands. Contact Bill Fillmaff.
---